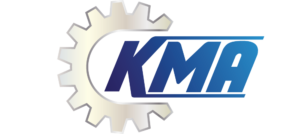 The Kentuckiana Machining Association (KMA) is a chapter of the National Tooling and Machining Association (NTMA) serving the Louisville, Southern Indiana, and surrounding area. In 1976 the KMA established an apprenticeship training program to satisfy state and federal education requirements specific to machinists, tool and die makers.
All classes are necessary to train well-rounded apprentices that adapt to various machining career paths which include machinist, maintenance machinist, mold maker, die maker and tool maker. Coursework is a combination of classroom, theory, and hands-on to allow students to demonstrate learned skills. The KMA provides the required 576 class hours typically achieved through attending one night per week 2 semesters per year for 4 years. Education is intended to parallel on the job training to maximize learning. We can also create a custom education path for students interested in refreshing skills or learn additional skill sets, not requiring them to obtain a certificate.
Tuition is often paid by employers, allowing students to graduate debt-free. Free job placement assistance is available prior to enrollment through graduation. We have had 100% full-time job placement for all students at all skill levels for the past 7 years. Additionally, we provide job placement assistance at no cost to machinists relocating to the area, veterans exiting the military to start their next career, etc.
The KMA machinist program is for those who enjoy using their hands and minds to make things that are tangible and needed in our communities. For years, through educational institutions, administrators, and lobbyists who have pushed the four-year degree paths upon every student and have downgraded the need for training in a skilled trade which has led to over 1.3 trillion in unpaid student debt loans, while high paying jobs ranging from $40,000-$100,000+ remain unfilled.